The IADC Statement of Demands In Support of the Iranian Uprising
We, the Iranian American Democrats of California, ask that elected officials in the United States, and especially here in California, support the Iranian people in their fight for basic human rights, equality, freedom, and democracy. Iranian American Democrats of California implore the U.S. government to help empower the voices of women in Iran, to amplify the calls of the Iranian people to hold the Iranian regime accountable for their human rights abuses, and to avoid war or military intervention by foreign powers. We make the following demands:
Express unwavering solidarity with Iranian Women as they lead the movement for human rights and democracy for all Iranians. Amplify the voices of the Iranian people as they create their own destiny and fight for their right to self determination. 

Prevent the Iranian government from using technology as a means of silencing its people, censoring political speech, and prosecuting  dissidents and protestors. Enlist the support of tech companies and license technology to provide expeditious and lawful tools for the Iranian people to circumvent government blockages. These tools are essential to both empower the Iranian people and highlight the atrocities committed by the Iranian regime.

In line with the United Nations right to health, immediately remove all barriers on emergency and non-emergency medical supplies that protestors on the ground desperately need.  

Use the United States' position on the UN Security Council to push for the establishment of an independent body tasked with investigating and holding accountable the Iranian regime for its prevalent and egregious human rights violations and abuses.

Demand the immediate release of all prisoners of conscience in Iran and condemn the illegal and inhumane treatment of its critics, including the abductions and assassinations of dissidents in Iran and abroad. 

Publicly endorse and support the United Nations Watch resolution to expel the Iranian regime from the UN Commission on the Status of Women (CSW). 

Publicly endorse and vote for the "Support for Iranian Political Prisoners Act," a bill introduced by Rep. Adam Schiff, as well as amplify the bipartisan effort led by Rep. Katie Porter to call on Meta, the parent company of Facebook, Instagram, and WhatsApp, to protect the free speech of Iranian protesters.

Immediately withdraw from Vienna talks and any current negotiations around JCPOA (aka: Iran Nuclear Deal).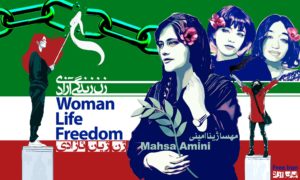 Please help by forwarding this letter to your elected officials
in California and across United States.